The Nigeria Centre For Disease Control (NCDC) has corrected the number of confirmed cases of coronavirus (COVID-19) in the country.
This followed an earlier announcement on Saturday night that Nigeria recorded 49 new cases of COVID-19, raising the figure of total infections to 542.
NCDC, however, adjusted the figure in a tweet on Sunday, saying 48 new infections were recorded in the previous day while the total number of cases stood at 541.
Yesterday, we erroneously reported one new case in Ekiti. This was wrong and was caused by an error in the verification process.

Therefore, as at April 18 2020, there are 541 confirmed cases, 166 discharged and 19 deaths.

Ekiti state has 3 confirmed cases, NOT 4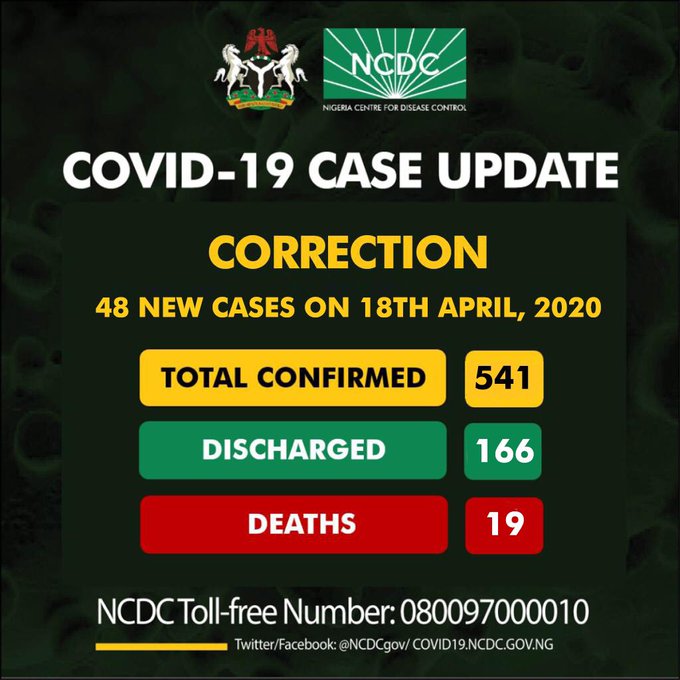 2,551Twitter Ads info and privacy2,066 people are talking about thisNCDC✔@NCDCgov · Replying to @NCDCgov
As at 10:40 pm 18th April, the correct breakdown of cases by state is as follows:

Lagos- 306
FCT- 81
Kano- 37
Osun- 20
Oyo- 16
Edo- 15
Ogun- 12
Kwara- 9
Katsina- 9
Bauchi- 6
Kaduna- 6
Akwa Ibom- 6
Delta- 4
Ekiti- 3
Ondo- 3
Enugu- 2
Rivers-2
Niger- 2
Benue- 1
Anambra- 1NCDC✔@NCDCgov
We apologise to the Government of Ekiti State for this error.

We remain committed to improving our quality control processes, to ensure accurate and transparent reporting of cases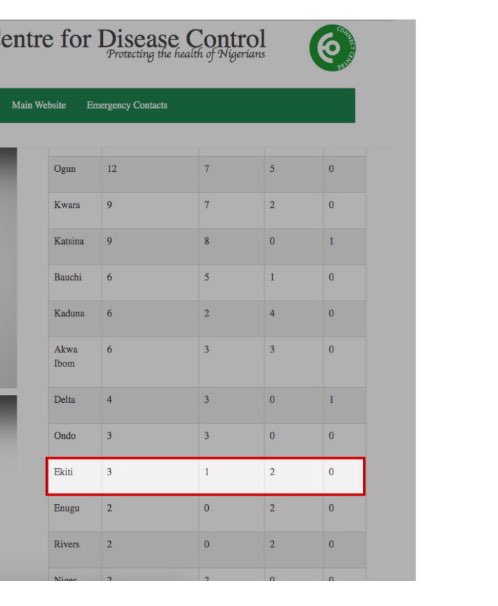 269Twitter Ads info and privacy167 people are talking about this
More to follow…